Bokits : Fast food made in Guadeloupe

le MERCREDI 05 JUIN 2019
Fast and good food : Bokit


The «bokit» is a specialty from here. In our contry, the bokit is a good and fast food to order, in food trucks or restaurants. It's definitely better than Mado or Burker King: for many people eating local food is the best. 
The bokit is a crispy fries bread in which you can add ham, cheese, meat...depending on the place where you buy it. However you will always find the one named "complet", my favorite
!
- In Point-à-Pitre at «

Place de la victoire

», you can find there differents food trucks where you can order them.
For the history, this place was named "Place of Victory" (literal translation) to celebrate the first abolition of slavery in 1794.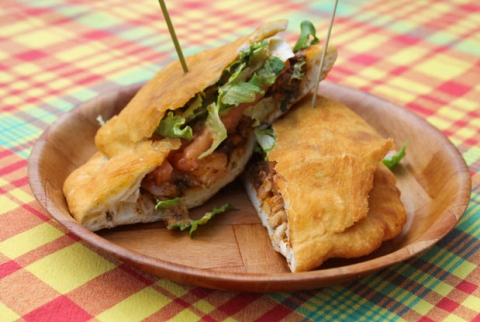 Come at night
(7:00 pm), the sellers are present at this time only

. You should order the food and go take a walk around the place or eat it in front of the wonderful sea view of

Mémorial Act

(3 minutes in car). This museum,the biggest of Guadeloupe, is very bright and lively in the evening. Perfect for walks!
Near from the precedent sellers, the particularity of this restaurant is that they propose more original choices (shrimps, vegetarian, cod… ) and the dough isn't too fat. Taste a bokit with shrimps, you will love!
 Find them: Thursday to Sunday from 6 pm to midnight

Our third selection is this place: it has always been known for its delicious bokits. Small inconvenient: planning to eat elsewhere, it's too hot!
Find them: Wednesday to sunday , 10 am to 11pm